Overview
[Development and design]
Based on the wealth of technical expertise, we have accumulated for years in installing and refreshing electrical control systems at steel plants, we build high-performance and reasonably priced electrical control systems which meet the requirements of customers and operational processes by using general-purpose programmable logic controllers (PLCs), such as Mitsubishi MELSEC and Fuji MICREX-SX, open networks, and AC/DC drive systems.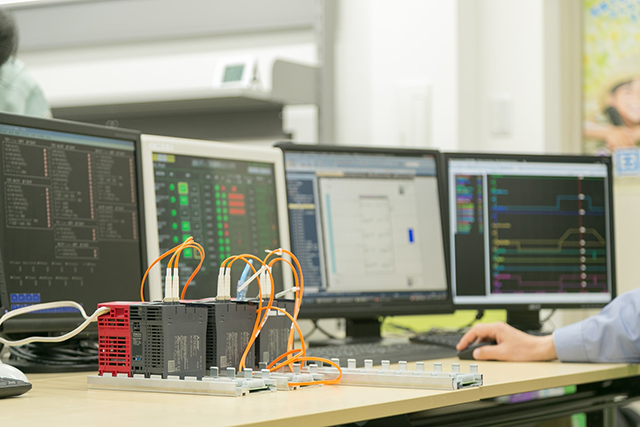 [Production and installation]
We design and produce to customers' specifications master control panels, inverter panels, hydraulic pressure control panels, operation panels, and other control panels as well as PLC software. Then we conduct an internal test using using our stringent quality-control procedures so that we can go on to install and test-run the systems in customers' facilities within a compressed timeframe.
[Maintenance]
Using general-purpose PLCs and inverters instead of proprietary equipment supplied by heavy-machinery manufacturers enables us to obtain a replacement for failed equipment faster and for less, resulting in a shorter downtime for the system. Another benefit of using general-purpose equipment is that the system can be modified at lower cost.